Pearl on Newell Beach
Pearl on Newell Beach holiday house is a luxurious holiday home situated directly on tropical Newell Beach. Set on 1,100 square metres of absolute beach front, the beautifully appointed, private home has been designed for comfortable living in both the dry season and the wet season.  Could this be your next luxury escape?
The impressive, secure gated driveway leads you to a front door flanked by pots filled with purple blooming water lilies. Enter through the double front door and this stunning house opens up. One can immediately see past the tropical gardens, onto the sparkling, swimming pool and then through to the beach.
This luxe beach house, filled with locally inspired art, is made up of 2 king size beach facing bedrooms, each with outside living areas, large en suites and walk in robes. There are a further 2 king size bedrooms and a 3rd large bathroom containing a spa bath and generous shower. Pearl has 2 separate large living areas both with televisions and Foxtel.
For those sharing the house with kids, the adults may choose to relax in the sophisticated living area which overlooks the refreshing pool. The second living room is filled with colourful, bright cushions on a large couch and perfect for the kids to watch a movie. This spacious house easily accommodates everyone.
A galley kitchen is the heart of this home, and a delight to cook in. The benchtop bi-fold doors open up onto a breakfast bar and courtyard with tropical gardens and being undercover allows the kitchen to be open all year round. From the kitchen one can see the stunning pool, entertain guests in the courtyard or talk to those relaxing in either living room. The kitchen, which is a design feature, easily allows the chef to entertain whilst preparing a gourmet meal.
Outside Pearl has 150 square metres of undercover dining and living area. Although there is a formal dining area inside that seats up to 10 people, you may wish to embrace the tropical lifestyle and eat alfresco. With 2 outside dining tables that seat up to 8 people, the kitchen easily services the first outside dining area situated adjacent to the pool and garden. The second dining area is within the pool area and can be serviced by the outside kitchen which includes a gas barbeque, bar fridge and sink.
Another option is the over-water-pavilion that sits above the pool and next to the beach. This is the perfect place for a private breakfast with the resident kookaburras or to soak up the ambience at sunset on a warm, tropical evening. Whether it's the wet or the dry season there is a place for you.
Spend your days unwinding by the pool, exploring the beautiful Daintree rainforest, visiting the world-renowned Great Barrier Reef or take a 20-minute taxi into Port Douglas and have a long, lazy lunch in one of the fine restaurants. If you don't feel like cooking, we can organise your own chef to prepare an in-house degustation dinner or cocktail night. For those who like to be pampered consider a spa treatment in the comfort of your retreat.
Ensuring that you can stay for as long as you like there is a fully equipped laundry with washing machine and dryer.
The owners love this private, idyllic tropical hideaway and are sure that you will too.
Choose Pearl for your Newell Beach Holiday Accommodation.
Pearl on Newell Beach Gallery
8
4
3
5
From $875 pn
Newell Beach
Tariff
Nightly Rate:
$875.00 ($4,375.00 for 5 nights)
Minimum Nights:
5
Guests included:
8
Maximum Guests:
8
Check-In:
2pm
Check-Out:
10am



Tariff shown is applicable for up to 8 guests and is accommodation only.
Parties, weddings and events are not permitted at this retreat!
Facilities & Features
2 large king size suites with ensuites bathrooms and walk in robes
2 king size bedrooms (2 king beds or 4 single beds)
3 bathrooms, one with generous spa bath
Central air-conditioning system with ceiling fans and separate bedroom air cons
A gourmet kitchen with European appliances and breakfast counter overlooking interior tropical garden
Formal internal dining area
2 large, comfortable internal lounge areas with TV and Foxtel
WiFi Internet access
Outside undercover kitchen with gas BBQ, bar fridge and dining table
Multiple outdoor dining areas
Separate resort style lounge areas
Over water pavilion
Sun lounges
Heated, child friendly saltwater swimming pool (heated in winter months only, June – September)
Outside shower
Secure, gated parking
Fully equipped laundry
All linen and beach towels are provided
A complimentary mid stay service is provided for bookings of 10 nights or more
Spa Indulgence
In the comfort and luxury of your own retreat you will be relaxed and grounded with a foot soak, a full body desert salt exfoliation, a warm mapi mud body wrap and scalp massage. Refresh with a tropical shower then surrender body and soul to a full body massage followed by a facial and indulgent pampering for the hands and feet. Re-harmonise in your natural surrounds and drift away to the soothing sounds of the ocean – 3 hours and bookings are essential.
We are happy to tailor personalised spa packages for your stay.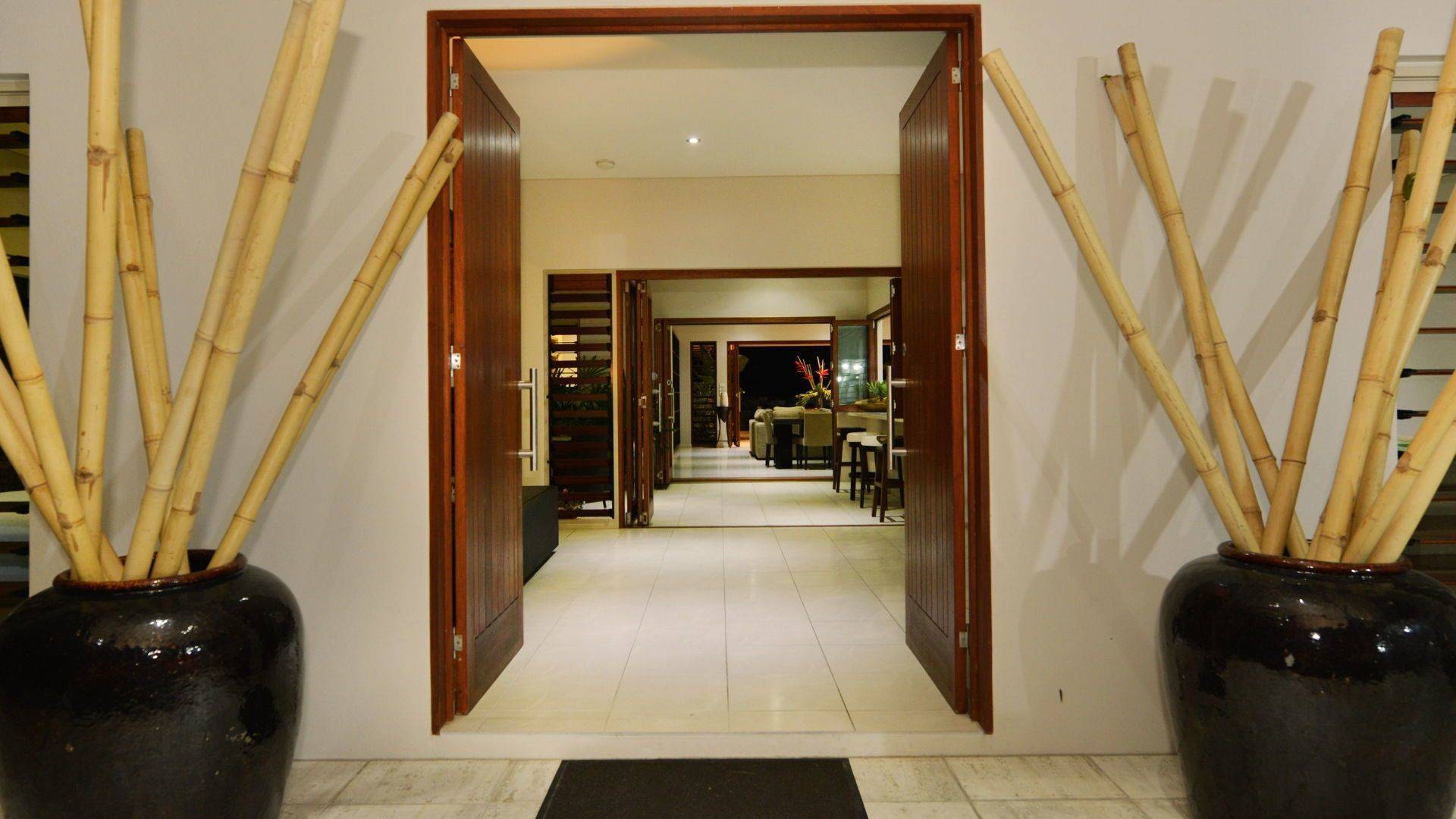 Testimonials
We've been holidaying at Newell Beach once a year for about 7 or 8 years now. Location is great – beachfront but not overrun with tourists and close to local shops and facilities (although you do need a car). During that time, we've stayed at 4 different properties, all managed by Executive Retreats. We have always found the properties well presented on arrival and Wendy, Hans, Heather and everyone else at Executive Retreats have always been friendly and very accommodating, including the odd unusual request we've made from time to time. We particularly like the layout and facilities at Pearl and being set back an extra 10 steps or so gives a little more privacy and seclusion while still being able to see the ocean. We already have our next stay booked for later this year. Peter and Susan Bain.
"I just wanted to say thank you again for such an easy booking, the personal meet and greet and the high quality of service I experienced from start to finish. This includes Neil's cooking at Pearl, Deanne's massages, your flexibility with no of guests etc. Via the stories and photos on websites, Executive Retreats is getting some great publicity"!
We had a wonderful stay and communication with Wendy was prompt and thorough. The house is well laid out with the bedrooms very well separated. The king bedrooms overlooking the pool have an en suite bath and the two bedrooms on the front of the house share a bath. The grill area is fabulous and we cooked almost every night. The pool is a a good size and the direct access to the beach was great. The one thing I hadn't realized was that while each of the bedrooms have an air conditioning unit the main house is not air conditioned at all. It was certainly cool enough in the evenings to have the temperature be confortable but there were mosquitos when we were there. I would definitely rent the home again as I found the layout and the location to be perfect for us. As as aside – the town of Mossman is quite small and the grocery closed quite early. If you are not going to arrive until late afternoon or early evening use the grocery service Wendy recommends to at least stock your first morning. We used Mike D'Arcy for a half day Daintree tour and I would highly recommend him. He is interesting, very well informed and a delightful host in the Rainforest. We had him pick us up in Cape Tribulation which has some easy walking trails and the most beautiful beach. At Wendy's suggestion we did a day snorkel with Calypso and it was very well done and Port Douglas was a great town to explore on an overcast day. All in all a great trip and a great house.
We stayed at Pearl in Newell beach for a week. In short, the house was fantastic, and highly recommended. Wendy was very responsive to all of our questions before the trip started, and greeted us when we arrived. She was also VERY responsive to requests we made during our stay. The location was perfect for us. Newell Beach is a small, friendly, sleepy neighbourhood just north of Mossman. Its far enough away from the tourist area of Port Douglas, but only a quick 25 minute drive to get to all the attractions in town. Mossman is a 5 minute drive, and has everything you need in case you forgot. Big grocery store, hardware, pharmacy, ATM and a few great restaurants. MoJo's was really good. An hour and twenty minutes the other way gets you to Cape Tribulation and the amazing Daintree area. The drive in itself is an adventure. Turn Left or Right on Capt. Cook Highway and you get to some really amazing places very quickly. We did a paddleboard trip down the mossman river with Windswell Kitesurfing that was really fun. They also pulled right up on to the beach in front of the house to take us on a private snorkeling tour of the Low Isles in a fast boat. That was special. Mike D'arcy took us on a guided 4×4 tour of the rainforest where we drove through rivers, swam in a creek, walked to an amazing waterfall, and saw all kinds of creatures, including a huge croc! The other great activity was renting a pontoon boat from Port Douglas Boat Hire and heading into the creeks behind Port Douglas. Make sure to hit the Sunday market in town. Great shopping. Dont miss the Wild Life Habitat in Port Douglas as well. We really enjoyed the house. Lots and lots of room. 4 great bedrooms. The parents enjoyed the two masters, and the kids swapped between the other two rooms. We were never in each other's way. The living room was comfy. The patio was well used. The outdoor BBQ cooked some tasty dishes, and the Pool was a huge hit. A quick walk out the back gets you right on the beach. Sadly the water was still stinger season so we could not get in, but it was great for walks. Go out at night and be AMAZED by the stars. The kitchen was well used on a daily basis, it has everything you need, and the grocery store just up the highway ensured we ate well. There is a little dinner and store in Newell beach that has amazing fish and chips. We rented bikes from Port Douglas Bike Hire, and they delivered them to the house that was a lot of fun. The last night of our trip, we took a tip from Wendy and had Chef Jed come over and cook a 5 course tasting meal for us. Wow. Just wow. A great way to end the trip. Again, very highly recommended..
From the moment we pulled into the drive, there was a collective "wow" from the car. The house is beautiful in its design and furnishings with a well equipped kitchen. It is located directly on the beach, is approximately 10 mins drive to Mossman where the nearest supermarket is, and about a 30 mins drive to Port Douglas. Wendy had left a personalised welcome note, a few essentials and a bottle of wine, which was a lovely touch. We enjoyed a fabulous holiday at "Pearl" as we could explore and do all the excursions we wanted to and then kick back and relax in beautiful surroundings. It was a very nice home and well equipped, in a very quiet neighbourhood right at the beach. Its away from the buzz about 15min to Port Douglas and thats what we were looking for.
Executive Service
We can recommend day excursions, car rental, in house catering, babysitting, spa treatments, massages and private yoga sessions at an additional cost not included in tariff.
We can help tailor make the ultimate Port Douglas vacation at this luxe accommodation.
Location
Newell Beach is becoming one of Australia's most sought after holiday destinations for Port Douglas accommodation in the local area. Situated between the ancient world heritage listed Daintree rainforest and the cosmopolitan village of Port Douglas, Newell Beach is the perfect base for all of the natural delights that the region has to offer such as the Mossman Gorge and the Great Barrier Reef. Newell Beach is a quiet residential beach. The township of Mossman is a 5 minute drive south and Port Douglas is 15 minute drive south of Newell Beach.
Do you have a question?
Send us a message now.